Ringnes AS, which took over the production of bottled Tou beer, has decided to shut down its production in Stavanger leaving 107 people without a job. Bottled Tou beer was a local icon for Stavanger.
The beer was brewed for the first time in 1855 at Tau, just outside Stavanger. The brewery moved to Stavanger in 1901 and in 1974 production was moved to Forus, Stavanger.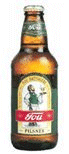 My favourite drink for "special" ocations.
and now it`s gone